The AMB offers various support in running the government which include reassessing the business process, evaluating budget allocations for information systems, and providing comprehensive government systems (networks, portals, etc).
To respond to the unprecedented demands for high quality and efficient government administration, reassessing the duties of national government entities and the information systems that support them while establishing digital government is an important topic that is garnering attention not only in Japan, but internationally as well. The AMB supports improvements in daily work of the ministries and the way they interact with the public, aiming to increase convenience for the public and improve the efficiency of work processes.
The AMB also operates "e-Gov," which is a portal site where various government ministries and agencies provide administrative information online that can be accessed by anyone at any time, thereby promoting increasingly open government.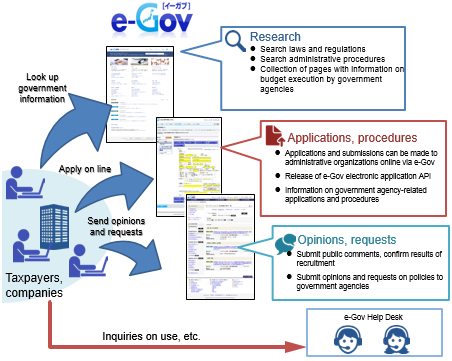 Furthermore, reform of work styles of civil servants become crucial when it comes to improving the quality of government administration. In order to accomplish such reforms, the AMB has made approaches to improve efficiency, with example like the development of "e-LAWS" system.


Going digital in drafting bills for government officials
According to government official's surveys, drafting bills has always been recognized as one of the most time-consuming tasks, creating unsustainable working conditions. To transform the analog workstyle of drafting bills, the AMB launched e-Legislative Activity and Work Support System, or e-LAWS, which is a project to digitalize legislative activities in October, 2016. Revisions of laws using ICT is now possible thanks to Japan's first government-certified database of laws and ordinances established with e-LAWS. This is expected to bring changes in national government work style, such as saving labor costs, leveling workload and creating room for flexible work style like teleworking, since one can work on creating legislative bills digitally. It could also decrease, and eventually bring an end to, the problem of high turnover rate of female officials in the government workforce.
Open data in XML format with a government API
e-LAWS legislation data has been released via online portal (e-Gov) to the public in reusable format (XML) with an API. Enhancement of private services using government developed data provided by e-LAWS is anticipated, which will also allow the public to become more familiar with the accurate data of laws and ordinances.