Participants Info
Register for IGF Kyoto 2023
You need to register with the UN Accreditation System for both attending the conference in person and attending online in advance.
Admission to the IGF Kyoto 2023 is free of charge.
Register here
https://indico.un.org/event/1006568/
Participating in person or online
You can register to participate and attend in person in Kyoto or online through the UN's accreditation system. For this you will first need a user account, which you then use to register for IGF Kyoto 2023.
Create a user account
Create a user account on the website of the UN accreditation system. If you already have an account, you can log on straight away. To create a new account, select "create an account at this UN Accreditation system".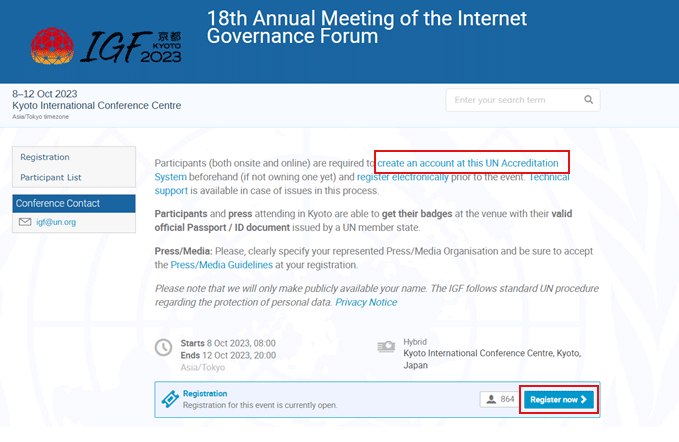 Activate your account
Once you have created your new account, you will receive an email with a confirmation link that you will need to click on.
Register for IGF Kyoto 2023
Once your account is activated, please register from "Register now." Then, you will receive an email once your registration is approved. There are some possibilities that the registration site will be crowded just before the start of IGF Kyoto 2023, so please complete your registration at your earliest convenience. Approval may take several days.
For those who visit the KICC
Please make sure to bring the government-issued ID with the photo (passport, driver's license card, etc.) which you used to register. You may not be able to enter if you do not bring it.
Throughout the Forum, please wear your ID budge which you received at the registration desk at the visible position.
---