What is terrestrial digital TV broadcasting?
HOME
> What is terrestrial digital TV broadcasting?
Terrestrial digital TV broadcasting is a new format of broadcasting that enables the viewer to receive higher quality video and audio signals than conventional analog TV, with no ghost images and no noise.
This migration from analog to digital of the television − one of the most familiar parts in our life − will make viewers' lives richer and more convenient than ever before.
Unique features of terrestrial digital TV broadcasting
No more ghost images!
In analog TV broadcasting, noise can cause a deterioration of audio and video signals before they reach the viewer, and ghost images can appear as a result of reflection off of high buildings. Digital TV broadcasting, however, delivers high-quality audio and video, with no ghost images.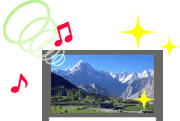 Enjoy "Digital Hi-Vision"
Digital high-definition TV, called "Digital Hi-Vision" in Japan, can be broadcast using the radio waves of a single conventional analog TV broadcast channel. Hi-Vision images offer a wide screen 16:9 aspect ratio with 1,080 scan lines, and CD-quality sound that further increases the impact and the sense of realism.
One channel can be split up to broadcast 2-3 programs simultaneously
With terrestrial digital TV broadcasting, two or three programs of standard quality (equivalent to current analog TV) can be broadcast on a single digital Hi-Vision channel.
In this way, for example, if a live sports broadcast goes into overtime, you can enjoy your favorite drama at the usual time on the main stream while watching the rest of the sports broadcast on other stream in the same channel.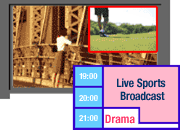 Outstanding services for the elderly and disabled!
Enjoy subtitled caption broadcasting
Captioning is a service that displays comments and dialogue as text at the bottom of the screen. In the case of terrestrial analog TV broadcasts, a special adaptor was required, but with digital TV, captioning is offered as a standard function.
Captioning are even available for some live broadcasts.
Audio descriptions for the visually impaired
Audio descriptions of the plots in dramas and other programs are available for visually impaired users.
Adjustable speaking speed
Some new digital TVs have an audio speed adjustment function that allows you to slow down the speed of an announcer's voice. It is very useful for elder people.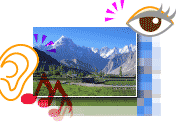 Check news and weather reports anytime!
Just by pressing a button on your remote control, you can obtain useful information including news, weather, and traffic reports.

Some programs include their own data broadcasts. For example, you can get information on the plot or characters in a TV drama. If you're watching a sports program, you can check the status of the game, or find information on the athletes.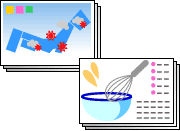 Participate in quizzes and questionnaires!
You can participate in interactive programs by connecting your digital TV to the network via a phone line* or Internet connection.
Then, you can use your remote control to join in user participation programs, such as quiz games or request programs.
*Separate phone charges may be required.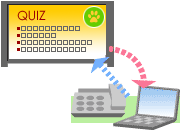 Use the Electronic Program Guide (EPG) to check program information up to a week in advance
"EPG" is short for "Electronic Program Guide". By simply pressing a button on your remote control, you can display a program guide on your TV screen showing programs up to one week in the future. You can display program details including broadcast times and performers, search for specific information, or set your recorder to record the program.
Setting the timer to watch or record a program is easy, and the system even adjusts the setting automatically when the broadcast time changes.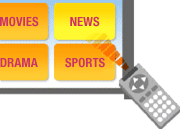 5.1ch surround sound
The audio in digital TV broadcasts offers the same high quality as a music CD. With 5.1-channel surround sound audio, you can enjoy realistic 3-D sound if you have a specialized amplifier and six speakers.
Programs with 5.1ch surround sound are indicated in the EPG or TV listings table in the newspaper.
View terrestrial digital broadcasts on your mobile phone!
With "One-seg" services for mobile devices, you can receive clear signals on your mobile phone or laptop PC, or the TV in your car, so you can enjoy terrestrial digital TV broadcasting in anywhere.This is an important service in the case of emergencies, because you can receive information on evacuation routes or people's safety even when phone lines are tied up.
Copyright (C) 2007 Ministry of Internal Affairs and Communications All Rights Reserved.