Pilot Efforts of Local Governments
Local governments also expect open data to contribute to planning towns comfortable for citizens and promoting "visualization" of the government. Here, we would like to introduce efforts in Sabae City (Fukui Prefecture) and Yokohama City (Kanagawa Prefecture). In February this year, "The Third International Open Data Day", comprised of open data utilization events such as hackathons in cities all over the world, was held in Yokohama, in which eight cities in Japan and over 100 regions in the world participated. In addition, specific moves are going on. For example, Nagareyama City, Aizu-wakamatsu City, and Kanazawa City are working on to partially open up the public data. In April this year, the four cities of Takeo, Chiba, Nara, and Fukuoka established a consortium to promote utilization of big data and open data to proceed toward concrete business expansion.
(A) Sabae City (Fukui Prefecture)
Sabae City is located at the center of northern Fukui, adjacent to Fukui City. The population is 68,901 (as of April 1. 2013), and the main industry is manufacturing, mainly eyeglass frames. The current mayor has aspired "IT Town" since his first election victory in 2004. In 2010, local IT company representatives, along with others, proposed "Data City Sabae".
In March 2010, the city established a municipal law to promote collaboration with citizens in town planning, called Citizens Play the Leading Role Law. The law stipulates information sharing between citizens and the city government. Based on a vision that positions open data as a new information sharing method coming next to city bulletins and websites, the city is committed to adopt suggestions; it has begun its efforts toward "Data City Sabae"(1) to publish data in formats that allow easy secondary use (such as XML and RDF). As of April 2013, the number of open data sets is 24, including locations of toilets in parks, evacuation centers in case of emergency, facilities equipped with AEDs (automated external defibrillators), free Wi-Fi access point locations, and position information of community buses. In addition, APIs are published as well. In conjunction with this movement, local businesses support the open data movement of the city with application development and other efforts.
The city is involved in active dissemination and awareness building about open data, and hosts events such as "Open Government Day @ Sabae" in May 2012, "Open Data Hackathon and LOD Challenge Day in Sabae" in October 2012, and "Open Government Summit in Sabae" in November 2012, as well as hackathons and web application contests to facilitate application development by the private sector.
There are as many as 40 kinds of applications provided, including toilet search in the city, real time operation status of community buses, and tourist maps (Figure 2-1-2-9).
Figure 2-1-2-9 Toilet search application - search screen

The "Data City Sabae" project won first prize in "Voluntary Awards" held by "Open Data Promotion Consortium" in March this year.
(B) Yokohama City (Kanagawa Prefecture)
Yokohama City has already been actively promoting information disclosure, such as providing information disclosure GIS for citizens by the unit of each city or ward office. This is also true for open data, and the city puts forth efforts such as agreeing to the idea of "Open Data Promotion Consortium", considering mechanisms to provide necessary local information to citizens, sharing policy challenges with citizens and having numerous discussions toward collaborative solutions, and stimulating creation of new industry and employment through open data circulation (Figure 2-1-2-10).
Figure 2-1-2-10 Yokohama Open Data portal screen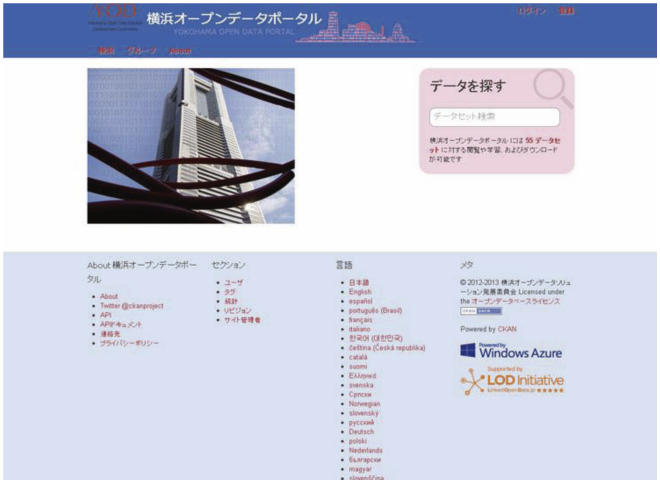 As of April this year, the city publishes 55 data sets as open data. The city also actively helps application development projects such as application development in "Yokohama LOD Project", which utilizes culture-related information published by Yokohama Arts Foundation, and "Where Does My Money Go?" (Japanese version 1.0), which utilizes the Yokohama City budget data.
The city has established "Open Data Promotion Project" under the Information Technology Promotion Headquarters, to carry out promotion of open data across the city government. Under CIO's control, ideas, principles and guidelines to promote open data are discussed within a framework that covers the entire city government.
Furthermore, as a support organization from the private sector, representatives of private businesses and non-profit organizations, university professors, and other people became founders of a voluntary association established in November 2012, "Yokohama Open Data Solutions Development Committee". Efforts of this committee include hosting "ideathons" and "hackathons" utilizing public data, as well as "future sessions" for sharing Yokohama's policy challenges with various parties through public data and facilitating discussions toward solving them.
Among the efforts of the city, "Where Does My Money Go?" application development and efforts of Yokohama Open Data Solutions Development Committee won second prize and Microsoft prize, respectively, in "Voluntary Awards" held by "Open Data Promotion Consortium" in March this year.
Strategic Efforts on Open Data in Other Countries
Development of open data strategies and the like is also underway in other countries. In addition to those in the United States and the United Kingdom, "The European Open Data Strategy" in EU and "Providing PSI (Public Sector Information) Guidance through a Single Portal" in France can be listed as examples. Currently, 30 countries around the world have already set up open data portal sites, and international organizations such as OECD, the United Nations, and EU are soon to follow. This section will introduce the efforts of the United States and the United Kingdom, where the President or the Prime Minister, respectively, is leading the open data initiative himself.
A. The United States
President Barack Obama issued a memorandum called "Transparency and Open Government" for the heads of executive departments and agencies, immediately after his inauguration in January 2009. The memorandum announced his commitment to build an open government based on the three principles of "transparency", "public participation", and "collaboration". In addition, he announced "Open Government Initiative" in May that year, and issued "Open Government Directive" in December that year. Based on these, the United States government opened Data.gov and the IT Dashboard in 2009, as efforts to improve "transparency". In addition, based on "Digital Government: Building a 21st Century Platform to Better Serve the American People" published in May 2012, the government promotes publication of not only numerical data, but also unstructured data such as document information. The Federal Chief Information Officer (CIO) takes a leading role in promoting open government in the United States government. The initiatives receive attention even now from other countries as pilot efforts of open data.
(a) Data.gov

Data.gov is a site that provides a wide range of data sets based on various statistic data owned by government agencies (Figure 2-1-2-11). The site aims to quickly publish online economic, environmental, and other information owned by government agencies, thereby improving information disclosure and transparency of the government and gaining trust from citizens. Currently the site provides approximately 370,000 raw and geospatial data, 350 applications, and 137 mobile applications. The site plans to make even more kinds of data format downloadable. This not only simplifies analyses and researches by users, but also stimulates expectations for development of practical applications and creation of new businesses using published data.

Figure 2-1-2-11 Data.Gov web site (raw data)

Click here for a larger image
(Source) Data.gov portal site

(b) IT Dashboard(2)

The IT dashboard was created to provide detailed information regarding IT investments of the Federal Government and ability to track the progress of the investments over time. The dashboard lists data collected from reports submitted by agencies to the Office of Management and Budget (OMB) (the listed data includes procurement cost, schedule, performance index, and rating by the chief information officer (CIO)), and discloses the data in user-friendly formats such as charts (Figure 2-1-2-12). By showing procurement data and providing a feature for viewing the data from all agencies together, citizens can easily compare procurement performance, and more, evaluate the performance on their own. In addition, a review initiative for IT investment projects called TechStat is also underway. In this initiative, relevant parties such as the CIO can utilize data from the IT Dashboard and the like to conduct a review of IT investments, which is called TechStat, which runs an intensive verification against investment projects with low profitability. This effort contributes to IT investment cost reduction.(3)

Figure 2-1-2-12 IT Dashboard web site

Click here for a larger image
(Source) IT Dashboard portal site

(c) 21st Century Digital Government strategies(4)

In May 2012, the Federal Government published an e-government strategy, "Digital Government Strategy". At the same time as the publication of the strategy, President Barack Obama issued a memorandum called "Building a 21st Century Digital Government"(5). The memorandum states "exponential increases in computing power, the rise of high-speed networks, and the growing mobile revolution have put the Internet at our fingertips, encouraging innovations that are giving rise to new industries and reshaping existing ones", but also expresses concerns, for example, that "government services often are not optimized for smartphones or tablets". Based on the principle, the memorandum requests agencies to provide efficient and organized services in the following ways. 1) Agencies should promote delivering of information in new ways that fully utilize the power and potential of mobile and web-based technologies. 2) Agencies should establish online resources open to outside developers, and adopt new standards for making applicable Government information open and machine-readable. 3) Agencies should integrate their online resource pages into www.data.gov. 4) All federal web sites should introduce web performance analytics and customer satisfaction measurement tools. In addition, the memorandum requests further spreading of open data in addition to utilization of up-to-date mobile and web technology.

In response to the memorandum, "Digital Government"(6) was published, which listed its objectives as to "enable the American people and mobile workforce to access high-quality digital government information and services anywhere, anytime, on any device", to "seize the opportunity to procure and manage devices, applications, and data in smart, secure and affordable ways, for adjusting to this new digital world", and to "unlock the power of government data to spur innovation and improve the quality of services for the American people", and stated to "enable the public, entrepreneurs, and our own government programs to better utilize federal data for applications and services by ensuring that data is open and machine-readable by default."

In addition, the document proposed the following four plans as strategic principles.

An "Information-Centric" approach: The government should move from the traditional "document" management to open data and content management. These open data and contents can be tagged, shared, and mashed up, and presented in a secured way that is most useful for ones who need the information.
A "Shared Platform" approach: By facilitating collaboration both within and across agencies, the government should reduce cost, streamline development, apply consistent standards, and ensure consistency in how information is created or delivered.
A "Customer-Centric" approach: The government should utilize the approach on how it creates, manages, and presents data through websites, mobile applications, raw data sets, and other modes of delivery, to allow customers to shape, share and consume information, whenever and however they want it.
A platform of "Security and Privacy": The government should ensure that innovation is realized in a safe and secure way, and digital services are used to protect information and privacy.

Furthermore, on May 9, 2013, President Obama issued an Executive Order to obligate provision of government data in open data (Executive Order - Making Open and Machine Readable the New Default for Government Information), and at the same time announced new plans regarding open data(7). By this Executive Order, federal agencies are obligated to publish newly created data in formats as easy to discover, access, and reuse as possible, while protecting information related to personal privacy, confidential information, and national security information.
B. United Kingdom
In the United Kingdom, open data strategies are in progress under the leadership of Prime Minister David Cameron27. For example, a letter that directs to open up data was sent out to the government departments immediately after formation of the Cameron cabinet. In the United Kingdom, a letter that directs to open up data was sent out to the government departments immediately after formation of the Cameron cabinet. It is said that this letter occupies an important position in the efforts of the country up to now (Figure 2-1-2-13).
Figure 2-1-2-13 Data to be opened up, specified in the letter from the British Prime Minister (excerpt)

Letter
Category
Example of Data
To be Published by
First Letter
(May 31, 2010)
Central government expenditure data
Past expenditure data
Jun 2010
New ICT-related contracts
Jul 2010
New expenditure information of 25,000 pounds and above by the central government
Nov 2010
Local government expenditure data
New expenditure information of 500 pounds and above by local governments
Jan 2011
New government contracts and biddings of 500 pounds and above
Jan 2011
Other data sets
Street-level crime data
Jan 2011
Name and title of each senior civil servant with a salary of 150,000 pounds and above
Jun 2010
Organization chart of the central government including all titles (provided in a common format)
Oct 2010
Second Letter
(July 7, 2011)
National Health Service (NHS)
Data for comparison of outcomes of general practitioners (GPs)
Dec 2011
Complaint data about NHS hospitals
Oct 2011
Clinical audit data, particularly performance details of medical teams supported by the government
Apr 2012
Education and skills
Data for evaluating education performance of schools
Jan 2012
Anonymized data from National Pupil Database
Jun 2012
Crime and justice
Judgment document data, anonymized profiles of the accused, and time taken until judgment
Nov 2011
Transportation
Data on current and future road construction
Oct 2011
Transport Direct data (road, parking, etc.)
Oct 2011
Real time data about roads
Dec 2011
Government expenditure data
Payment data of 500 pounds and above using government procurement cards
Sep 2011
(Source) Materials from NTT DATA
In addition, Prime Minister Cameron announced "Transparency Agenda" in 2010. The agenda states, "The improvement of transparency in the entire government is central to the commitment we share. With transparency, citizens can force politicians and public institutions to be accountable, reduce deficit, and provide cost-effective services related to public spending. In addition, businesses and non-profit organizations can utilize public data for creating innovative applications or web sites to realize large economic benefit." The agenda states the country's willingness to promote open data with transparency and economic effects as main objectives.
To realize this Transparency Agenda, the United Kingdom established an expert committee called "Transparency Board", and laid down "Transparency Principle" as a principle regarding public data, which stated: 1) Public data should be disclosed in a reusable and machine-readable format. 2) Public data should be disclosed based on the same open license to allow utilization including commercial use, 3) Public data should be available and easily searchable through a single, easy-to-use online access point (data.gov.uk).
Additionally, in 2010, a new license called Open Government License (OGL) was established to promote use of public data by the private sector. To allow wide use of data owned by public institutions including commercial use, the OGL additionally covers non-personal information previously protected by copyright or database rights, and data owned by public institutions that has not been previously disclosed. The license also allows reproduction, alteration, and commercial use.
In 2012, the United Kingdom amended the Freedom of Information Act to cover open data. According to the amendment, when certain conditions are met and where reasonably practicable, government institutions must provide information in a reusable electronic format. The government of United Kingdom requires each ministry to formulate an open data strategy in the near future, and 17 primary ministries have already formulated one.
Furthermore, the government portal site, Data.gov.uk, has been in operation since 2010, providing over 9,000 data sets (Figure 2-1-2-14).
Figure 2-1-2-14 Data.gov.uk web site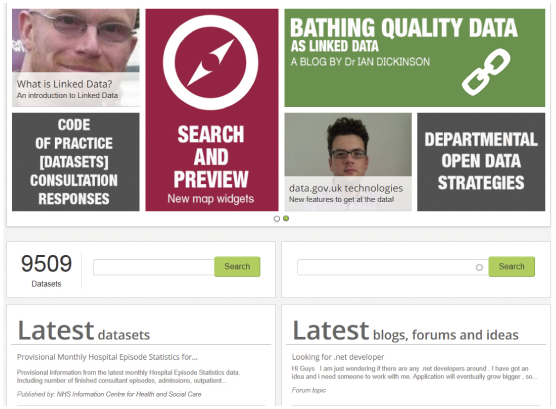 (Source) Data.gov.uk portal site
From the perspective of incubating new industries, the government of United Kingdom established the Open Data Institute in 2012 as an organization to seriously help startup of businesses utilizing open data. The allocated budget is 10 million pounds over five years. The government of the United Kingdom recognizes that although preparation of a data portal for public institutions to publish data and citizen-level activities utilizing the data portal have become significantly active, creation of new businesses utilizing open data has not yet led to great success. This recognition led to establishment of the Institute, which is supported by the government and focused on incubation of private commercial businesses.
Figure 2-1-2-15 Open data strategy formation trends in other countries

Country
Title
Summary (Descriptions inside parentheses show related actions)
EU
European directive on the re-use of public sector information (PSI directive) (2003)
Recommends the EU nations to set rules and policies regarding re-use of public sector information (PSI). In reaction to the Open Data Strategy for Europe below, the directive is under discussion for amendment, mainly on the following topics: 1) PSI should be re-used as a general rule, 2) Data should be provided at the lowest cost (that is, virtually no cost) 3) Data should be provided in a machine-readable format, 4) The target should be expanded to libraries, museums, and archives
Open Data Strategy for Europe (2011)
Economic effect of 40 billion euros per year. Promotes the following three policies: 1) Open EU data portal (currently under development), 2) Ensure fair conditions within the EU borders, 3) Support 100 million euros for research and development of data processing technologies.
France
Providing PSI (Public Sector Information) Guidance Through a Single Portal (2011)
(In 2010, the cabinet decided to establish a promotion organization called Etalab.)
Obligates each ministry and agency to assign a representative responsible for coordination with Etalab. The guideline also stipulates work responsibility of each ministry and agency, data formats to be used, etc.
(In 2011, an open data portal site, "data.gouv.fr", opened.)
Germany
Government Programme: Network-Based and Transparent Administration (2010)

States that the Federal Ministry of the Interior would conduct a pilot project for statistics and map information.
Open data strategy is under separate consideration(In 2011, an open data portal site, "daten.berlin.de", opened.)
Source: Created from "The latest trends in European open data" (NTT Data Corporation, March 29, 2012), "The study of open government in e-government TF and the use of open data" (Fumihiro Murakami, The Task Force on E-Government temporary member, November 5, 2011), etc.
Efforts of Local Governments toward Open Data in Other Countries
Efforts toward open data are also underway at local governments in the United States, the United Kingdom, and other countries. In the United States, a new portal Cities.data.gov has opened under Data.gov, in which the four major cities of Chicago, Seattle, New York, and San Francisco participate. In this way, open data portals of local governments are being integrated into the Federal Government's open data portal. In the United Kingdom, 105 out of 434 municipalities have established open data councils.
As an example, New York City publishes hundreds of types of data owned by the city and relevant organizations in its "Open Data" site28. The data covers a broad range of topics including map data such as Wi-Fi access points or subway entrances in the city, counseling record data of the city's general telephone counseling service, and power consumption categorized by zip codes. New York City opens these data to the public, and hosts application contests utilizing the data to improve transparency of the city government as well as convenience for citizens and visitors. This year, a grand prize of 35,000 dollars is awarded to the winner.
In addition, the New York City Council has passed a bill called "Open Data Bill" in February 2012. The chairperson of the Council said that this bill would help monitoring and improvement of the city government, by enabling information such as accident information data, which the transportation department has been obligated to collect, to be provided in formats capable of sort, extract, and analyze operations as desired, as well as identifying geographical regions requiring improvement within the Council.
Similar efforts toward open data are also reported to be ongoing at various cities in the United States, including Washington, D. C., Philadelphia, and Seattle.
Figure: New York City open data site



Click here for a larger image


(Source) Data.gov.uk portal site
notes:

"Changes in E-Government Policies from Administrative Changes in the United States" (Kiyoshi Matsuoka, Administration & Information Systems, April 2010), "IT Investment Management in the Federal Government (Visible Investment Management through Utilization of the IT Dashboard)" (Document submitted by temporary member Kenji Hiramoto at the third meeting of the IT Strategic Headquarters Expert Committee on Government Information System Renewal, held on May 28, 2012)
http://www.kantei.go.jp/jp/singi/it2/yuushikisha/dai3/gijisidai.html(Japanese)
The current Federal Chief Information Officer, Steven VanRoekel, started PortfolioStat in addition to TechStat started by his predecessor Vivek Kundra, to improve IT investment management based on his own views while inheriting the predecessor's reformation initiatives. While TechStat is tailored to reviewing performances of individual projects and investment projects, PortfolioStat covers the entire IT portfolio of each agency. The goal is to identify overlapped investment and investment that does not align with the strategies of each agency, and, at the same time, to move to the shared service model.
("PortfolioStat2.0" from the Institute of Administrative Information Systems web site http://www.iais.or.jp/ja/wp-content/uploads/2013/05/PortfolioStat2.01.pdf(Japanese) )
Please see "e-Government Policies of the United States" (1) to (5) from the Institute of Administrative Information Systems web site
(http://www.iais.or.jp/ja/information/government/%E7%B1%B3%E5%9B%BD%E3%81%AE%E9%9B%BB%E5%AD%90%E6%94%BF%E5%BA%9C%E6%88%A6%E7%95%A5%EF%BC%881%EF%BC%89/(Japanese) , etc.)
http://www.whitehouse.gov/sites/default/files/uploads/2012digital_mem_rel.pdf
http://www.whitehouse.gov/sites/default/files/omb/egov/digital-government/digital-government.html
Please see "President Obama Issues Executive Order about Conversion of Government Information into Open Data" (Current Awareness Portal, May 10, 2013) http://current.ndl.go.jp/node/23477(Japanese) .
The executive order is as follows:http://www.whitehouse.gov/the-press-office/2013/05/09/executive-order-making-open-and-machine-readable-new-default-government-
"Open Data Policies in Europe (2)" (Soichiro Takagi, Administration & Information Systems, August 2012)
"Make Life in New York More Convenient with Applications Utilizing Government-Owned Data" (CLAIR email magazine, May 2012)