Managing its organization and personnel limits
The administrative organization and total number of personnel require that the organization be controlled to prevent overexpanding, and that an efficient business system be secured, capable of responding to changes in administrative demand.
For that reason, the AMB carries out a series of head count rationalization programs and examines its organization and total number of personnel, thereby building up a simple and efficient administrative organization, and optimizing its numbers of personnel and placements.
Regarding the number of personnel for the central government, the AMB steadily carries out its head count rationalization programs while conducting "strict head count management" that strictly limits increases in personnel.
Streamlining administration and increasing its efficiency
In order to appropriately handle urgent challenges to be addressed by administration in such a severe financial situation, it is vital to realize a government that can adapt to changing circumstances in an economic society.
Under these circumstances, the AMB reviews all operations including at Local Branch Offices and operations concerning ITC introduction and streamlines the administrative organization and staff size.
Implementation of the incorporated administrative agency system,
examination of enterprises, and related matters
Incorporated administrative agencies are incorporated with a corporate personality, independently from the central government, in order to separate the planning and drafting function for policies from the implementation function, and make the implementing departments more efficient and better in quality (104 corporations as of March 2011).
The AMB is charged with overseeing the Act on General Rules for Incorporated Administrative Agencies, as well as planning and drafting common programs concerning incorporated administrative agencies. It also examines any proposals for establishing, revising, abolishing, or otherwise handling an incorporated administrative agency. An incorporated administrative agency should be reviewed for its organization and tasks in general at the end of its mid-term target period of three to five years, and the AMB reviews all that in collaboration with other organs. In fiscal 2010, the 42 target laws were revised: related facilities were abolished or otherwise disposed of, thereby reviewing the organization and/or programs, with expenses being reduced, and task management made more efficient.
Promoting e-government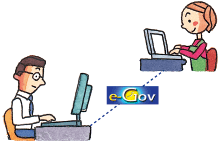 The following describes the efforts being made to employ ICT (information communication technology) in administrative fields and review the tasks and programs, thereby rationalizing administration by making it more reasonable and efficient, and increasing citizen convenience.
(1) The AMB drafts plans for optimizing the tasks and information systems of the ministries and agencies (optimization plans), in an attempt to reduce operating costs and other expenses for the information systems, and shorten the task processing time. Toward promoting further optimization in the future, the AMB will build a government shared platform (see the keyword shown below) to optimize the specific tasks and systems of each ministry, as well as the tasks and systems of the entire government based on cost-effectiveness.
(2) Regarding application, registration and other procedures handled by state administrative establishments, there is a need to promote the online use of administrative service for 71 frequently used procedures including those for filing taxes and applying for registration. To that end, the AMB drafted the "Action Plan for Expanding Online Use of Administrative Service" (determined in September 2008) and intensively took such measures as expanding the advantages offered by the online use of administrative service and improving user-friendliness.
(3) The AMB also focuses on promoting the online use of administrative service for the sake of citizen convenience, such as publicizing and expanding electronic government, monitoring comments and requests from citizens, and using the government's portal site (e-Gov), thereby making it easier for citizens and enterprises to file applications, make registrations, and complete other procedures pertaining to administrative organizations.
Promoting information disclosure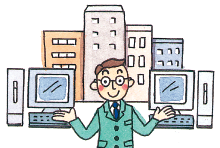 The "Act on Access to Information Held by Administrative Organs" (enforced on April 1, 2001) and the "Act on Access to Information Held by Independent Administrative Agencies" (enforced on October 1, 2002) stipulate the right to claim disclosure of documents owned by administrative agencies, independent administrative agencies, and other establishments (all the independent administrative agencies, along with special and certified corporations considered to constitute part of the central government) in order to make the central government exercise its full accountability to the citizens. These laws are thus important laws to ensure an administration open to citizens.
The MIC ensures that both laws are implemented appropriately and smoothly.
About 77,000 disclosure requests were received by administrative organizations in fiscal 2008, while only about 3,700 disclosure requests were received from incorporated administrative agencies. Regarding the projects processed in fiscal 2008, information on 96.3% of administrative organizations and 84.9% of incorporated administrative agencies was disclosed, in whole or in part.

Protecting personal information
To ensure that administration is performed appropriately and smoothly and to protect the rights and profits of individuals, two laws have been in force since April 1, 2005: the "Act on Protection of Personal Information Held by Administrative Organs" and the "Act on Protection of Private Information Held by Independent Administrative Agencies."
The two laws set basic rules for administrative agencies to handle private information by limiting the ownership of private information, clarifying its purposes of use, limiting its use and provision, and ensuring its accuracy and security. In addition, these laws provide for a mechanism for the principal's interference as insurance for these rules, in the form of rights to claim disclosure, correction, and use suspension, along with others.
The MIC ensures that both laws are implemented appropriately and smoothly.
Advancing a guarantee of fairness and progress towards transparency in administrative operations
The AMB works to advance a guarantee of fairness, progress towards transparency in administrative operations, and protection of the rights and interests of citizens by promoting appropriate management of the "Administrative Procedure Act," which stipulates common rules regarding the procedures for dispositions, administrative guidance and notifications, and procedure for establishing "Administrative Orders, etc", and the "Administrative Appeal Act," which paves the way for administrative appeal regarding illegal and unlawful disposition, and related matters.

Government shared platform
The government shared platform is a foundation system common to all departments of the government and designed to integrate, unify and manage all information systems developed, managed and used individually by each ministry or agency, in order to promote optimization based on cost-effectiveness for all governmental information systems as follows: (1) systems common to the ministries and agencies to be used in a cross-governmental manner, and (2) small systems and other resources installed, developed, and used in specific departments. The aim is to reduce the burden of each ministry or agency in terms of management tasks, personnel, and other matters by sharing hardware resources with each information system and integrating both effective use and management.
In fiscal 2009, the "Study Group regarding the Way the Governmental Information Systems Ought to Be" organized the basic concepts of the government shared platform (http://www.soumu.go.jp/main_sosiki/kenkyu/system_seibi/index.html). In fiscal 2010, the study group conducted such tasks as drafting a plan for developing and determining specification requirements, in attempting to initiate progressive use of the platform in and after fiscal 2012.