In December 2009, the MIC issued the "ICT Restoration Vision" as a new growth strategy. In May 2010, the MIC further issued the "ICT Restoration Vision 2.0" encompassing specific policy measures and targets. According to these visions, the ICT policy is being implemented to allow all households to use broadband service, reduce carbon dioxide emissions by at least 10% using ICT power, double ICT investments, and achieve 3% sustainable economic growth in and after 2020.
While there are concerns over the effects of our rapidly aging society with fewer children on economic growth, along with other problems, there is a need to turn the competition policy into something that addresses environmental changes from a global perspective, and use ICT to help to solve the economic and social challenges facing Japan and other countries. To that end, the MIC established the "ICT Policy Task Force for a Global Era" in October 2009. Studies were then conducted for more than a year until December 2010.
This task force consists of four sectional meetings ("Review of the Past Competition Policy," "Consideration of Response to Environmental Changes in the Telecommunication Market," "Consideration of International Competitiveness Reinforcement," and "Consideration of Global Challenges") under the "Policy-making Platform" that includes the MIC Minister, State Secretary, and Vice-Minister, and considers new ICT policies.
In this task force, the GISB considers policies for promoting global expansion of a wide range of ICT-related companies in the all-Japan system and strengthening international competitiveness, while considering ICT-enabled solutions to regional and global challenges facing different countries of the world, including environmental and medical issues.
Japan issued "Amendment of the Broadcast Act, etc." in December 2010 containing amendments in terms of broadcasting, radio and telecommunications businesses, which are necessary for organizing and rationalizing institutions leading to correspond to progress of digitalization in telecommunications and broadcasting sectors.
ICT research and development has been promoted based on "UNS Research and Development Strategy Program II" that was set up for the appropriate handling of such issues as the lives of citizens, assurance of safety and measures to deal with global warming, as well as the enhancement of international competitiveness. Specific examples include three-dimensional video technology, photonic network technology, network robot technology, and space communication technology.
In order to support original research and development, the GISB also implements the "Strategic Information and Communications R&D Promotion Programme (SCOPE)" in which various researchers are invited to file their research and development projects, and the "Promotion program for Reducing global Environmental loaD through ICT innovation (PREDICT)," intended to create ICT seeds that help alleviate global warming, while opening the leading-edge research and development test bed network and laboratories to various segments of the public, thereby supporting research and development efforts through the collaboration of industry, academia, and administration.
The GISB also promotes the international standardization of its findings with emphasis on collaboration with other countries and standardization establishments, in order to widely publicize research and development results internationally.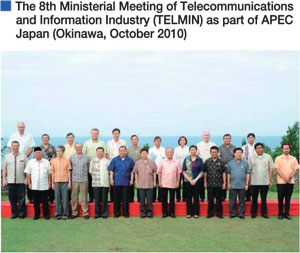 The GISB helps private enterprises go global by dispatching public-private sector joint missions and holding seminars abroad in the three important fields of terrestrial digital broadcasting, wireless, and next-generation IP network. For example, the GISB promotes activities to disseminate the Japanese system of terrestrial digital broadcasting in South American countries, while helping private enterprises open up new markets in China, India, Southeast Asia, and other regions. The GISB also urges other countries to alleviate regulations on entry into their countries, and develop and enhance competitive telecommunication markets through trade liberalization negotiations including the World Trade Organization (WTO) and Economic Partnership Agreement (EPA).
Moreover, to further the globalization of telecommunications, the GISB contributes actively to Asia-Pacific Economic Cooperation (APEC), the International Telecommunication Union (ITU), Organization of Economic Cooperation and Development (OECD), Association of Southeast Asia Nations (ASEAN), Asia-Pacific Telecommunity (APT), and other multilateral frameworks and international organizations, as well as engages in policy deliberations with other countries in an effort to promote international mutual understanding and cooperation.
For developing countries, the MIC helps train personnel through technical cooperation programs intended to establish and enhance telecommunications networks toward eliminating the international digital divide.
Cloud computing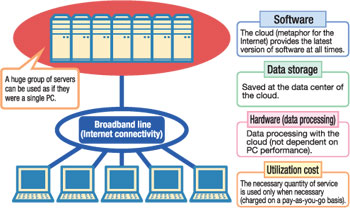 Cloud computing refers to the use of servers, storage devices, routers, and other network resources scattered on a network to provide users with information processing service, applications, and other resources. Cloud computing allows people to use the necessary quantity of the latest infrastructure and service when necessary without having to modify their existing systems, and offers other advantages as well, thereby marking a paradigm shift in the ICT field.
In this way, cloud computing is a new form of ICT use and has the potential to significantly change our socioeconomic activities. Particularly notable changes will be caused in Japan, which has the world's leading-edge broadband base: By maximizing the potential use of cloud computing, Japan can make the entire industry efficient, advance the social infrastructure, alleviate its environmental impact, and undertake other reforms.
The MIC is working to establish an ICT system base and conduct research and development for cloud networking technology that is highly safe and reliable, in order to promote the thorough use of ICT, enhance the quality of citizens' lives, and achieve new economic growth with the spread of cloud computing as the turning point.