G7 ICT Multi-Stakeholders' Conference
Outline
Venue: Sunport Hall Takamatsu "Small Hall 1", Hall Building 4F, Takamatsu Symbol Tower 2-1 Snuport, Takamatsu-shi, Kagawa 760-0019, Japan
Host: Ministry of Internal Affairs and Communications, Japan
Co-Host: Keidanren(Japan Business Federation ), BUSINESSEUROPE,U.S. Chamber of Commerce,
※ The conference was broadcast live on the Internet
The Gist
The"ICT Multi-stakeholders' Conference"purposes that the ICT experts from the private sector (i.e. businesses and academia etc.) will discuss ICT based on each session's theme and put forward a proposal. The outcome was reported in the G7 ICT Ministerial Meeting.
Executive Summary of The Discussion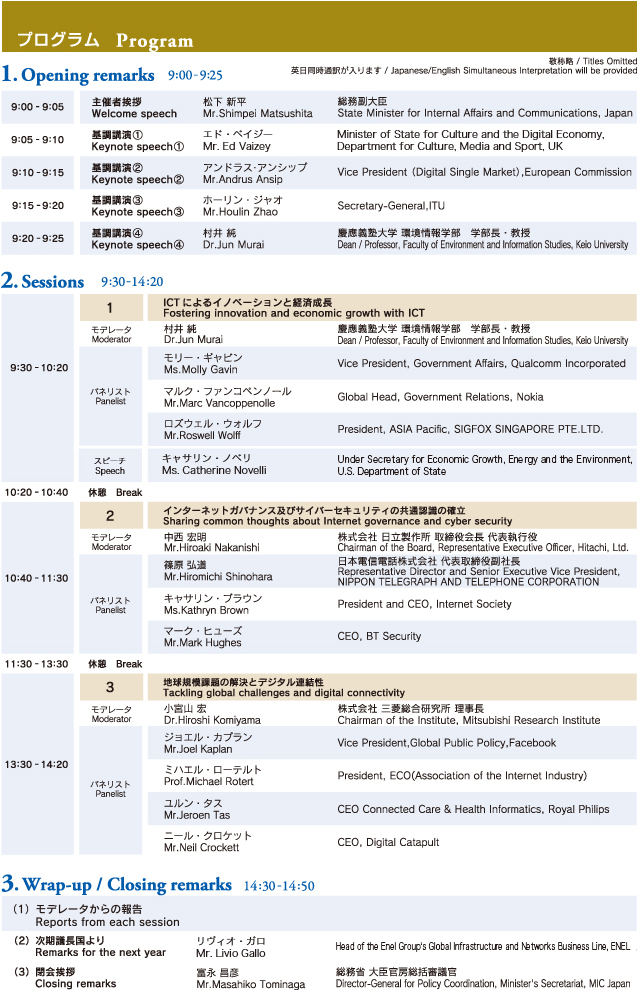 Welcome speech / Keynote speech
Sessions
◆ Session1
◆ Session2
◆ Session3
Wrap-up
Mr. Shimpei Matsushita

State Minister for Internal Affairs and Communications,  State Minister of Cabinet Office
Shimpei Matsushita was first elected to the House of Councilors in July 2004.
He served as Parliamentary Vice-Minister for Land, Infrastructure, Transport and Tourism, Chairman of the Internal Affairs and Communications Division of the Liberal Democratic Party and so on. He was appointed current position in October 2015.


Edward Vaizey

Minister, State for Culture, Communications and Creative Industries, the United Kingdom
Ed Vaizey MP was appointed Minister of State at the Department for Culture, Media and Sport and the Department for Business, Innovation and Skills, with responsibility for digital industries on 15 July 2014.
Education
Ed was educated at Merton College, Oxford.

Political career
He was appointed Parliamentary Under Secretary of State for Culture,Communications and Creative Industries in May 2010.

Career outside politics
After university he worked as a political researcher, before training and practising as a barrister. From 1996 to 2004 he was director of a public relations company.

Minister of State for Culture and the Digital Economy
This role is shared between the Department for Business, Innovation and Skills (BIS) and the Department for Culture, Media and Sport (DCMS). As such, the minister reports to both Secretaries of State, ensuring a strong focus on digital exists at cabinet level from both social and economic perspectives.

Responsibilities for DCMS include:
● digital strategy, enterprise and technology
● cyber security and telecoms resilience
● digital infrastructure and spectrum
● digital markets and consumer policy
● digital engagement and skills
● culture
● media
● creative industries

Andrus Ansip

Vice President(Digital Single Market),European Commission
Commission Vice-President for the Digital Single Market
2014-present
Member of the European Parliament, Vice-President for the ALDE group
2014
Member of the Estonian parliament
2014
Prime Minister of Estonia
2005-14
Minister of Economic Affairs and Communications
2004-05
Mayor of Tartu
1998-2004
Deputy Head of Tartu Department of North Estonian Bank
1994-95
Member of the Board of Directors, Rahvapank
1993-94
Senior engineer, Institute of General and Molecular Pathology, Tartu State University
1983-86

Houlin Zhao

Secretary-General, ITU
Houlin Zhao was elected ITU Secretary-General at the 19TH Plenipotentiary Conference in Busan, Korea, in October 2014. He took up his post on 1 January, 2015.

Born in 1950 in Jiangsu, China, Mr Zhao graduated from Nanjing University of Posts and Telecommunications, and holds an MSc in Telematics from the University of Essex in the UK.

From 2007 to 2014, he served as ITU's Deputy Secretary-General, where he effectively assisted the ITU Secretary-General, in close cooperation with the other elected officials of the Union, to manage the implementation of the ITU Strategic Plan and the operations of the ITU Secretariat, in particular with a view to increasing the transparency and efficiency of the organization.

He was responsible for implementing important innovations including the promotion of a new category of membership open to the global academic community, internal efficiency measures such as the move to a near-paperless work environment, the increased use of remote participation systems, and measures to increase revenue from sales and cost-recovery services. In addition, he focused closely on membership-driven priorities including maintaining and extending ITU's commitment to accessibility, to multilingualism, and to broad multistakeholder participation in the work of the Union.

Prior to this Mr Zhao served in the elected role of Director of ITU's Telecommunication Standardization Bureau (TSB) from 1999 to 2006. During his two terms of office he spearheaded the introduction of new efficiency measures to improve ITU's standards-making environment through fostering even closer cooperation with industry members, while strengthening the promotion of ITU's leadership in global ICT standards development.

From 1986 to 1992, Mr Zhao was a senior staff member in the then CCITT, and from 1993-1998 in TSB. Among his responsibilities as Counsellor for ITU-T Study Groups, he was Coordinator for cooperation with other international technical bodies, including ISO and IEC.

Before joining ITU, Mr Zhao served as an engineer in the Designing Institute of the Ministry of Posts and Telecommunications of China, taking an active role in his country's expert meetings on telecommunication standards and national plans, as well as participating in CCITT Study Group meetings as a Chinese delegate. He contributed important articles to a number of prestigious Chinese technical publications, and in 1985 was awarded a prize for his achievements in science and technology within the Ministry of Posts and Telecommunications.

As ITU's 19th Secretary-General, Mr Zhao is committed to further extending ITU's community by encouraging more industry members and academia from around the world to join the ITU family. He has also initiated a more open-door policy to welcome other stakeholders and partners, as well as promoting the greater involvement of small- and medium-sized enterprises in the work of the Union.

He is married with one son and two grandchildren, and is fluent in three official ITU languages: English, French and Chinese.
Prof.Jun Murai

Dean / Professor, Faculty of Environment and Information Studies, Keio University
He received his Ph.D. in Computer Science, Keio University in 1987, majored in Computer Science, Computer Network and Computer Communication. He developed the Japan University UNIX Network (JUNET) in 1984, established WIDE Project in 1988, aiming to research and develop the computer networks, currently the Founder.
He is a member of the Strategic Headquarters for the Promotion of an Advanced Information and Telecommunications Network Society (IT Strategic Headquarters), a member of the Cyber Security Policy Council, National center of Incident readiness and Strategy for Cybersecurity(NISC) , Cabinet Secretariat, chairs and serves on many other governmental committees, and is active in numerous international scientific associations. He is known as the "Internet samurai" and, in Japan has also been called "the father of the Internet in Japan".
He was a Member of Internet Architecture Board (IAB) from 1993-1995, Board of trustee of Internet Society (ISOC) from 1997-2000, Board of Director of the Internet Corporation for Assigned Names and Numbers (ICANN) from1998-2000. He was inducted into The 2013 Internet Hall of Fame/ 2011 IEEE Internet Award / 2005 Jonathan B. Postel Service Award.
Molly Gavin

Vice President, Government Affairs, Qualcomm Incorporated
Molly Gavin is vice president of government affairs and sustainability at Qualcomm Incorporated. Ms. Gavin oversees Qualcomm's policy agenda for Asia on issues including intellectual property and ICT. Molly manages Qualcomm's sustainability program which includes the publication of our annual Qualcomm Sustainability Report. Ms. Gavin engages domestic and international institutions, trade associations, and non-governmental organizations on these policy issues. Additionally she serves as Chairperson for Qualcomm's Products Committee, as a mentor for Qualcomm's Women's Empowerment program, and as a board member for Casa Cornelia. Molly has been at Qualcomm since 2000 and served from 2006-2009 as senior director of government affairs based in Hong Kong, managing Qualcomm's policy program for ten economies.

Ms. Gavin graduated Summa Cum Laude from University of Notre Dame with majors in Government and Spanish and received her master's degree from UCSD's Graduate School for Global Policy and Strategy.
Marc Vancoppenolle

Global Head, Government Relations, Nokia
Since January 2016, Marc Vancoppenolle is leading the global Government Relations function for Nokia. His responsibilities include policy and regulatory affairs as well the leadership of the Nokia advocacy activities around the globe. He and his team are working with institutions and stakeholders to create a favorable political and regulatory environment fostering investment in the digital and broadband industries.

Prior to this role, Marc led during 4 years the Alcatel-Lucent Public and Regulatory Affairs function for EMEA - including the representation office in Brussels - and APAC. Before joining Public Affairs, Marc took various international and worldwide technical, commercial, marketing and communication leadership roles based in Belgium and in France.

Marc is a Belgian and French national. He holds a master of science, with a specialization in telecommunication from the University of Leuven complemented with marketing studies from the University of Antwerp. He is Vice-Chair of the BUSINESSEUROPE Digital Economy Taskforce and board-member of FITCE Belgium (forum for ICT & Media professionals). He has been a member of the board of DIGITALEUROPE (representing the Digital Technology Industry in Europe) and of the IICB (Innovation & Incubation Center Brussels).
Roswell Wolff

President, ASIA Pacific, SIGFOX SINGAPORE PTE.LTD.
Mr. Roswell Wolff has been the President, Asia Pacific at SIGFOX since February 2016. And he had been the Managing Director, Asia for the Card Systems Division of Oberthur Technologies since July 2009. Mr. Wolff has over 23 years experience, including 10 years in Asia, in the telecommunications, finance, IT and software services industries. He served as the Vice President Global Accounts of Atos Origin where he was responsible for the management of key accounts in the Financial Services sector. In 1999 he joined Oberthur Technologies (formally LHS & Sema Plc), and moved to Kuala Lumpur Malaysia, where he served as the head telecommunications sales and marketing for Asia. He spent 3 years in Japan with responsibility for Managed Operations and Payment Services clients in Japan, Korea and Greater China. Previously Mr. Wolff worked for over 12 years in Europe with Convergys and the software consulting division of Verizon. Mr. Wolff holds a BA in international business and Russian studies from the University of Pennsylvania.
Hiroaki Nakanishi

Chairman of the Board, Representative Executive Officer, Hitachi, Ltd.
Academic background
Mar 1970 Graduated from the Department of Electrical Engineering, Faculty of Engineering, The University of Tokyo
Jul 1979 Master of Science in Computer Engineering, Stanford University, United States

Professional career
Apr 1970 Joined Hitachi, Ltd.Assigned to Computer Control Design Department, Omika Works
Jul 1978 Admitted to Stanford University, United States
Jul 1979 Received MS in Computer Engineering
Feb 1990 Department Manager of Computer Control Hardware Engineering Department, Omika Works
Feb 1993 Deputy General Manager of Omika Works
Jun 1998 Managing Director of Hitachi Europe, Ltd.
Aug 2000 Deputy General Manager of Information & Telecommunication Systems Group
Jul 2001 General Manager of International Operations Division
Apr 2002 Chief Marketing Officer of Information & Telecommunication Systems Group
Apr 2003 General Manager of Global Business and Chief Executive for Europe
Jun 2003 Vice President and Executive Officer, General Manager of Global Business and Chief Executive for Europe
Apr 2004 Senior Vice President and Executive Officer, General Manager of Hitachi Group - Global Business, Chief Executive for North America and Europe
Jun 2005 Senior Vice President and Executive Officer, Chief Executive for North America, Chairman & CEO of Hitachi Global Storage Technologies, Inc.
Apr 2006 Executive Vice President and Executive Officer, Chief Executive for North America, Chairman & CEO of Hitachi Global Storage Technologies, Inc.
Apr 2010 President
Jun 2010 Director, President
Apr 2014 Director, Chairman and CEO
Apr 2016 to present Chairman of the Board, Representative Executive Officer Non-executive positions
Jun 2014 Vice Chair of Keidanren (Japan Business Federation)
Sep 2015 Counsellor at the Bank of Japan

Hiromichi Shinohara

Representative Director and Senior Executive Vice President, Chief Technology Officer, Chief Information Security Officer, NIPPON TELEGRAPH AND TELEPHONE CORPORATION
(Biography)
Hiromichi Shinohara joined the Nippon Telegraph and Telephone Public Corporation in 1978. He has held various posts, including Vice President at the Access Network Service Systems Laboratories of NTT's Information Sharing Laboratory Group as well as Senior Vice President of the Information Sharing Laboratory Group. He was appointed as a member of the Board in 2009, and has held his present position since 2014.

From the perspective of a telecommunications operator and ICT services provider, Shinohara has promoted research and development into such topics as AI, IoT, the cloud and security, with an aim of contributing to economic growth and reform based on the active use of ICT.

In his capacity as Chief Information Security Officer (CISO), Shinohara coordinates information security for the entire NTT Group. As a critical infrastructure provider, NTT provides safe and reliable telecommunications services with an eye to 2020 and beyond.
Kathryn Brown

President and CEO, Internet Society
Kathryn C. Brown joined the Internet Society as President and Chief Executive Officer in January 2014. A veteran of Internet policy development and initiatives that have aided in the Internet's global expansion, Ms. Brown leads the Internet Society in its mission to keep the Internet open, thriving and benefitting all people throughout the world.

The Internet Society is at the center of the largest global network of people and organizations focused on ensuring the Internet continues to evolve as a platform for innovation, collaboration, economic development and social progress. In her role, Ms. Brown works to ensure that the Internet Society continues to be seen as a powerful voice and as an internationally respected authority on Internet technical, development and policy issues. She has mapped out a strategic direction for the organization to address the most pressing issues facing the Internet today, including the need to build trust in an open network and to connect the next billions to an Internet of opportunity.

Ms. Brown's career spans the public and private sector, including serving in the United States National Telecommunications Information Administration (NTIA) and the Federal Communications Commission (FCC). She also led policy and global corporate social responsibility initiatives for telecom provider Verizon. She received her J.D., summa cum laude, from Syracuse University College of Law and her B.A., magna cum laude, from Marist College. Ms. Brown has served on the advisory boards of the Public Interest Registry (.ORG), the mPowering Development Initiative of the ITU, and the USC Annenberg Innovation Lab.
Mark Hughes

CEO,BT Security
Mark was appointed as president, BT Security in January 2013. He reports to
the CEO of BT Global Services.

Launched in January 2013, BT Security brought together experts from several areas of BT. As its president, Mark is responsible for all of BT's security activity around the world. His job is to make sure we have the right policies and procedures in place to keep our assets safe (physical, logical or information); as well as to protect us from fraud and reduce the effects of any incidents, including our work on civil resilience.

Mark also leads on our security market offer; the BT Assure portfolio. He makes sure it protects our customers' data and assets and delivers us a profit. In this role, he is also passionate about nurturing our budding security talent.
When he joined BT in 2002, Mark managed various projects, including a partnership with the UK Government for the Criminal Records Bureau in Scotland. After that, he ran operations for a sales division in the major customer market sector,focusing on our core services.
Before joining BT, Mark was commercial director of MWB Business Exchange, who provide serviced office spaces.

Mark is also a member of the Senior Strategic Steering Group of the Centre for the Protection of National Infrastructure (CPNI).

Dr. Hiroshi KOMIYAMA

Chairman of the Institute, Mitsubishi Research Institute, Inc.
Career:
1973 Post doctoral fellow at the University of California at Davis (~1974)
1981 Associate professor, the Faculty of Engineering, University of Tokyo
1988 Professor, the Faculty of Engineering, University of Tokyo
2000 Dean, the Faculty of Engineering, University of Tokyo
2005 The 28th president of the University of Tokyo (~2009)
2009 Current Position

Education:
1967 Graduated from the University of Tokyo
Received Bachelor's degree, chemical engineering
1969 Received Master's degree, chemical engineering, the University of Tokyo
1972 Received Doctoral degree, chemical engineering, the University of Tokyo

Joel Kaplan

Vice President, Global Public Policy, Facebook
Joel Kaplan is Vice President, Global Public Policy at Facebook. In this role, he manages the company's global public policy strategy, working with governments and non-governmental organizations to foster understanding and support for Facebook's innovative technology. He originally joined Facebook in 2011 as Vice President of US Public Policy, overseeing the company's relationships with policymakers at the federal and state levels.

Prior to joining Facebook, Kaplan was the Executive Vice President for Public Policy and External Affairs for Energy Future Holdings Corp. (EFH). In that position, Kaplan oversaw enterprise-wide public affairs and led EFH's efforts to publicly demonstrate and communicate its role in the energy industry.

Kaplan joined EFH from the White House, where he served as Deputy Chief of Staff for Policy under President George W. Bush from 2006-2009. He was responsible for the development and implementation of the Administration's policy agenda. He framed strategic decisions on a full range of policy matters and integrated the execution of legislative, communications, and external outreach and policy strategies on behalf of the President and Chief of Staff.

From 2003-2006, he served as the Deputy Director of the Office of Management and Budget. From 2001-2003 he was Special Assistant to the President for Policy within the White House Chief of Staff's office.

He began his professional career as a law clerk for Fourth Circuit Court of Appeals Judge J. Michael Luttig and then for Supreme Court Justice Antonin Scalia.
Kaplan was an Artillery Officer in the United States Marine Corps for four years. He holds a B.A. in government from Harvard College and J.D. from Harvard Law School. Joel and his family currently live in Chevy Chase, MD.
Michael Rotert

ECO President, Association of the Internet Industry
Prof. Michael Rotert, through his engagement in a variety of national and international committees, has become well established as an advocate for the success of the Internet in Germany. He has many years of experience in the area of Information and Communication Technology, and has been active as a specialist consultant for the EU, the UN and the US Department of Commerce. Professor Rotert was the Industry Spokesperson for the German delegation in the G8 Cybercrime Group. He is Chairman of the Board at eco - Association of the German Internet Industry e. V. and Vice President of EuroISPA (European Internet Service Provider Association). Alongside his professional experience, which he has gained as Founder and CEO of Xlink, one of the first providers in Germany, as CEO and Senior Vice President of KPNQWest and as CEO of several Internet Service Providers, he also has extensive academic knowledge. Before he founded Xlink, Michael Rotert was employed at the University of Karlsruhe. In 1985, he was responsible for creating the first Internet connection at a German university.
Jeroen Tas

CEO Connected Care & Health Informatics, Royal Philips
Jeroen Tas, CEO of Connected Care & Health Informatics at Philips, has more than 30 years of global experience as an entrepreneur and executive in the healthcare, information technology and financial services industries.

He oversees the business groups Patient Care & Monitoring Solutions, Population Health Management, Healthcare Informatics Solutions and Services and Emerging Businesses.

These business groups support governments and hospital enterprises with customized clinical programs to implement new models of care. The Connected Care & Health Informatics cluster operates as part of the global Philips company, which aims to improve the lives of three billion people a year through meaningful innovation.

At Philips, Jeroen advances the development of digital health solutions that provide connected patient-centric care and support providers, hospitals and our global health systems to achieve better outcomes from healthy living to home care. Jeroen's stance is echoed in Philips' commitment to improve access, lower cost and enhance quality across the health continuum.

Previously he was CEO of Philips Healthcare, Informatics Solutions and Services overseeing digital health and clinical informatics and and the Group Chief Information Officer (CIO) of Royal Philips, leading IT worldwide. Jeroen and his team have evolved IT to become a fundamental enabler of growth for Philips as a real-time, connected company.

He co-founded and served as President, COO and vice-chairman of the Board for MphasiS, an IT and Business Processing Outsourcing company with revenues of $1+ billion, which was acquired by HP in 2006. From 2007 to 2008 he was Vice President and General Manager at EDS, responsible for the global competency centers.

Prior to MphasiS, Jeroen was the head of Transaction Technology, Inc., Citigroup's tech lab,responsible for the innovation and development of the bank's customer-facing systems,including Internet banking and self service devices. Earlier in his career, he held international marketing and project management roles with Digital Equipment and Philips in the USA, Europe and Asia.

Jeroen is the 2004 winner of the E&Y Entrepreneur of the Year Award in the Information technology category for the New York region. He also won the Dutch CIO of the year 2013 Executive biography Award, NASSCOM Global CIO Award 2014, the World Innovation Congress 2014 CIO Leadership Award, CIO Net European CIO of 2014 Award, the IT Executive 2014 Award, the Accenture Innovator of the Year 2015 Award.

He is a native of the Netherlands and holds a Master's Degree in computer science and business administration from the VU University, Amsterdam.

Neil Crockett

CEO, Digital Catapult
As CEO of the Digital Catapult, Neil is tasked with driving the Digital Catapult's rapid growth and delivering its ambitious vision. Heading up an 80 strong team, Neil's focus is on helping to bring great new digital ideas to market and ultimately to help boost the UK GDP and make the UK a better place to live through digital innovation. Neil joined the Digital Catapult after 14 years at Cisco, where he held a number of high profile roles and most recently led the company's Olympic Sponsorship campaign. He has also worked at Arthur Anderson, Rank Xerox, Compaq and Husky Computers. Originally from Belfast, Neil now lives in Stratford-upon-Avon. He has a degree in Political Science from Newcastle University.
Livio Gallo

Head of Division, Global Infrastructure and Networks, Enel S.p.A
Livio Gallo was appointed Head of the Enel Group's Global Infrastructure and Networks Business Line in July 2014.

The Division encompasses several companies in Europe (Italy, Spain and Romania) as well as Latin America (Argentina, Brasil, Chile, Colombia and Peru), managing electricity Transmission and Distribution, as well as Public Lighting. The Division serves more than 62 million customer and counts more than 32,000 employees and 1,800,000 km of lines.
He is also currently Chairman of the Board of Directors at both Chilectra SA (one of Enel's Latin American subsidiaries) and Enel Sole, as well as being a Board Member at Endesa SA and CESI SpA.

In 2005 he was appointed Head of Enel's Italian Infrastructure and Networks Division and CEO of Enel Distribuzione, maintaining his position in the former role until moving onto his current position. Enel Distribuzione, serving 32 million electricity customers in Italy, is currently a leading Smart Grid company in the world, with a technological-innovation track record starting from 2001 with the massive replacement of 32 million Smart Meters.

Prior to arriving at Enel, Mr. Gallo was Elsag Bailey Process Automation's Area Vice President for Western Europe and Africa and a member of its Executive Committee. He has also been CEO and a board member at a number of businesses both in Italy and abroad.