G7 ICT Students'Summit in Takamatsu
G7 ICT Students' Summit in Takamatsu, Kagawa
Report on Outcomes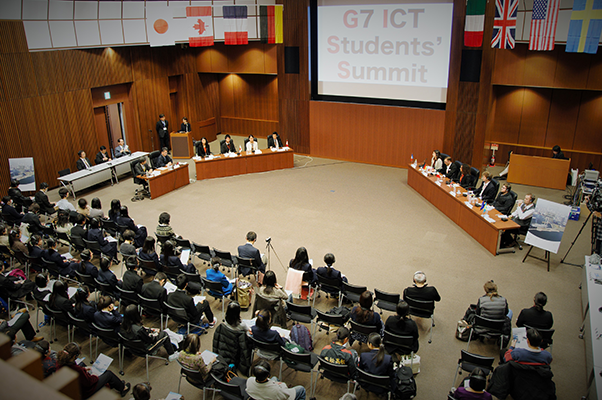 1. Outline
Date:
13:30-15:40, Saturday, December 12, 2015
Venue:
Kagawa International Conference Hall
Organizers:
Promotion Council for the G7 ICT Ministers' Meeting in Takamatsu,
Kagawa, Kagawa Prefectural Government, Takamatsu City
Support:
Ministry of Internal Affairs and Communications (MIC)
Panelists:
Total of 10 students from each G7 member country and from the EU (Sweden)
Moderator:
Ichiya Nakamura (Professor, Graduate School of Media Design, Keio University)
Observers:
About 100 in total, including Kagawa high school and university students as wellas members of the general public
2.Key opinions expressed during discussion
The use of ICT is more integrated into young people's lives, and some of them are over dependent or addicted to smart phones and SNS while ICT has become more commonly used in education, and new tools of ICT are available such as Facebook, Line and Google Glass. It is crucial for the young generation, their parents, and teachers to understand the merits and demerits of ICT services and utilize them properly.

In the future, through the development of technology such as IoT, AI, robots might surpass humans someday. However it is expected that this could lead to a high quality of products and more efficient distribution of human resources.

In the world of politics, ICT has been used as a tool for propaganda, but it would be better if ICT would make political procedures more transparent and let people communicate easily their concerns easily regarding political issues.

The best way to create a peaceful, fruitful coexistence between people and ICT is with the proper handling of technology and understanding the risks.
3. Proposal
Based on the content of the discussion, the following proposal "The Future in Your Hands" was put together using 10 keywords chosen by the students.
It is up to our generation to find an ideal way of using ICT so we can progress in a more responsible and clear-sighted manner towards an innovative, accessible and non-addictive technological world where all cardinal values of the globe can coexist.